The Round Project
360° views of beautiful places as circular studies with a kaleidoscope æsthetic, to elicit a second look at spaces that are already very familiar. What started as the RoundNY series of prints, has grown into The Round Project, reflecting the growing scale and scope.
RoundNY
Often in the course of our daily lives, we pass through beautiful places without ever noticing the view. We take them for granted. I wanted to change that, and began looking for a format to display these places in a new way, to compel people to take a closer look. As a little kid, I was addicted to my toy kaleidoscope, whose mirrors turned a few shards of stained glass tumbling inside into an infinite parade of symmetrical shapes. This imperfect symmetry of a kaleidoscope view became the inspiration for the RoundNY series. A human touch and presence in otherwise sternly symmetrical spaces lent them a warm breath.
The initial RoundNY series consists of six photographs taken in New York City in late 2014.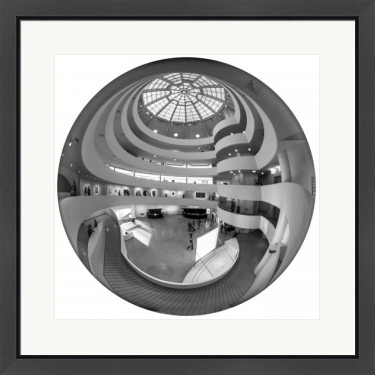 See RoundNY Series Photographs Online
Artist Statement
New York City overall is very square, very severe with its boxy buildings and numbered streets. But it has some kinder shapes too, particularly in the atriums and cupolas of its most iconic structures - if one cares to look up. In my RoundNY series, I wanted to gather and celebrate these curves, and I hope you'll enjoy them with me.
- Alexander 'Sasha' Karasev
Edition
Each of the six photographs is a limited edition of 10 black and white chromogenic photographic prints 19¼" in diameter, and comes with a unique serial number and a signed certificate of authenticity. The round images are exposed on 20x24" sheets of Kodak Professional Endura Supra Glossy photographic paper, developed in RA-4 chemistry and framed using archival methods and materials. The prints are also available unframed. The serial numbers are registered in the
online database
, keeping track of each limited print and their properties. In the event an edition sells out, I may (but am under no obligation to) also make available artist proofs, of which there exist not more than three for each photo.
Exhibitions
October 17 - November 17, 2015:
Espresso 77 in Park Slope, NY
. Four works are on display.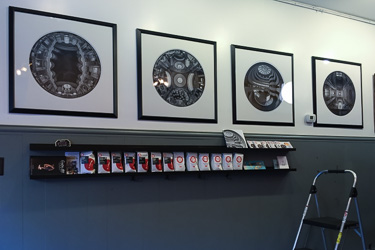 October 8 - November 8, 2015: Dougherty Gallery in Long Island City, NY. Nine works are on display, includig all six of the original RoundNY series, and three new photographs. The Guggenheim №11 is presented in an extra-large size, a 32" diameter image on a 34x34" sheet.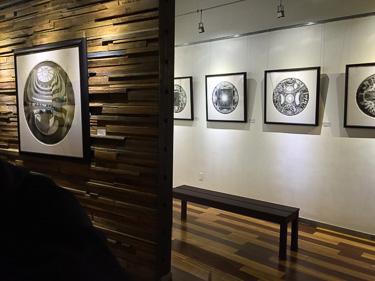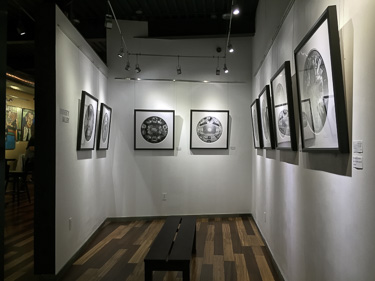 The RoundNY series has made its debut at Gallery 77 as a solo exhibition of all six photographs from February 18th until March 18th 2015. Eleven prints have found welcoming homes during that time.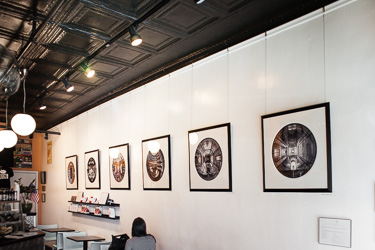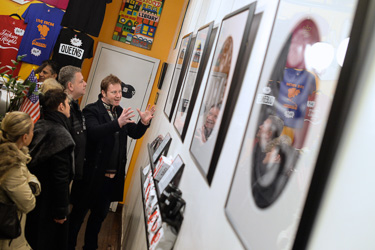 Further gallery exhibitions are being planned for the 2015 Summer / Fall time frame. For questions regarding print display or sales, please contact me.
Book
To communicate the background of the project in a tangible offline form, I have used the coffee table book format, releasing a short 12x12" volume.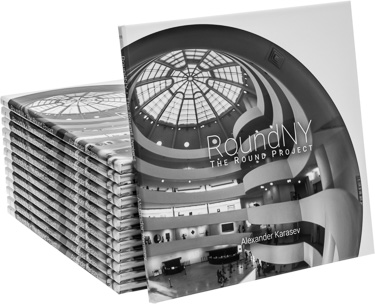 Preview the RoundNY 12x12"Book Online
The book contains all six photographs of the RoundNY series, plus 15 more photos and text explaining the history, logistics, technology and artistic considerations for the RoundNY series and the future of The Round Project. An eBook version is available on Apple's iTunes/iBooks, Amazon (for Kindle), and Barnes & Noble (for Nook).
The Next Steps
Here is what the future holds for the project:
More Places
The project's premise that capturing familiar places in this way will compel people to take a closer look, has been validated.
More Media
The round format genuinely resonates with people, and their excitement to see it on a variety of round objects is contagious.
More High Tech
I will continue to push the project's technological envelope, to capture beautiful images in unique and challenging places.
More Ways to Engage
The project is now on the Instagram at instagram.com/theroundproject. Through the project's growing social media footprint, as well as its web site theroundproject.com, I will communicate with fans, buyers, and fellow photographers, to fuel people's passion for beautiful places in which we live.