For photos, would you trade your SLR for a smartphone?
According to the WSJ article by J. Osawa, declining sales of DSLRs and lenses are signaling that the market as a whole is doing just that. Conventional wisdom would suggest that while camera-phones could compete with basic compacts, surely DSLRs with their huge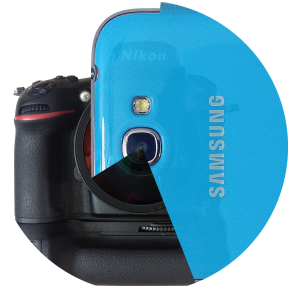 sensors and interchangeable lenses would be safe.
Yet market data does not lie – those sales figures are what they are. What I believe is happening is the rules of the game (of delivering cameras that the market wants) just got changed. DSLRs still win hands-down at the old game (quality, performnce, control), but that is quickly becoming only a part of what makes a good camera.
What's the other part? Editing and connectivity. Today's reality is, people want the best shots, with basic post-processing, to be up online right now. Instagram gets you there in 10 seconds, and if you invent something that gets you there in 5, you will kill Instagram. Smartphones' full-time internet connectivity and their processing power that can be brought to bear in 3rd party photography apps, put together, is a game changer.
If DSLR manufacturers want to keep selling to amateurs, enthusiasts, as well as pros in many fields, they need their DSLRs' internet and app capability to match that of the smartphones. SONY DSC-QX100 which is basically a high quality sensor and lens that communicates with a smartphone via WiFi and NFC and can clip onto it,  is the writing on the wall. WiFi-enabled memory cards or dongles, and camera-smartphone hybrids, are other vectors aiming at the same ultimate solution. Perhaps we'll see SIM card slots next to memory slots in future DSLRs, backed by lifetime unlimited data plans.
The next few years will be very transformative for SLRs, I believe. One thing we can all count on is, good photos will still be good, among the abundance of of bad ones. We'll just be seeing them all a lot sooner. And that, as always, will have been a sign of the times.