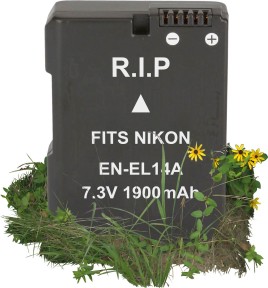 A recent Nikon firmware update for their mid-range and entry-level DSLRs (D5200, D5100, D3200, D3100) appears to have eliminated these cameras' ability to be properly powered by many 3rd party EN-EL14A rechargeable batteries manufactured to-date.
The gesture isn't new to Nikon, or unique to it. Other premier camera manufacturers as well seemingly wouldn't miss an opportunity to slap 3rd party makers of batteries, lenses and accessories for their systems. The camera makers' motives are understandable: they want the users to buy from them in order to capitalize on their R&D investment. Additionally, they want to minimize support overhead arising from their equipment interfacing with 3rd party products.
There's no doubt that 3rd party manufacturers will, in time, produce batteries compatible with the new firmware, and that many users will take the risk buying them because of the savings. In my mind there are two questions less trivial:
Is OEM technological obstructionism even sustainable beyond the short-term?
Is it in the camera makers' own best interest?
1. In this day and age of highly automated, globalized manufacture, the quality gap between OEM-branded and 3rd party products has been shrinking. While OEMs still have effective legal means of defense (patent and trade dress protection) against larger players in developed markets, with every passing year it will be more of an uphill battle for OEMs to use technical means to defend their market share for accessories that are simple, not innovative, and priced with a large profit margin.
2. We photo equipment users want to save money, but at the same time we don't want the makers of our camera systems to go out of business or to relinquish their focus on quality and innovation.  The way I look at it, however, a $40 lens cap does not prompt OEMs to kick innovation into a high gear – instead it prompts them to become complacent. What works is disruptive innovation, similar to how RED has burst onto the indie film-making gear scene and got the incumbent manufacturers like SONY and Canon to stop resting on their laurels and deliver compelling offerings of their own that would otherwise have taken a decade or more to arrive in that price range.
I believe, the future belongs to:
Open source hardware and software,
Transparent interfaces and protocols,
User-driven development.
Does that leave a spot under the sun for traditional brands like NIKON and SONY? I think, more so than ever – so long as brands focus on their core and essence, and let go of 20th century ways of doing business. Namely:
A brand at its core is nothing more than a promise of a certain user experience. Make sure the experience being delivered is building the brand rather than eroding it. No crowd sourcing project or a knock-off lens cap would threaten a brand that is doing its job.
Innovation and quality control. Yes 3rd party makers can come up with anything eventually, but not right away and at the level of performance and consistent quality of OEMs. The latter can thus command a fair premium by staying ahead of the game.
Today, like in any other transformative period in history, folks who embrace and lead the change are the ones who benefit the most. I certainly wish Nikon, Canon, SONY and others to be among such beneficiaries.