Christmas cards were like the Facebook of years past. But even now – in fact, perhaps now more than ever – people appreciate great photos. Here are three ideas for holiday pictures that are fun and go beyond the ordinary.
1. Little boys, big toys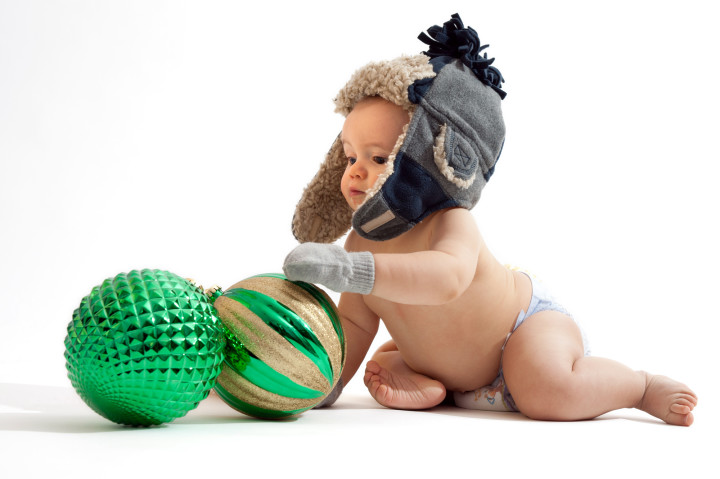 Who's cuter than cute little babies? Littler cute babies. Extra-large Christmas tree ornaments are really fun and festive and make your baby look even more precious. I got these ornaments at the Home Depot. Safety first: do not use fragile glass ornaments or those that shed glitter or have sharp edges or removable parts that aren't secured. Clean and sanitize them before the shoot. Ornaments generally aren't designed to be baby-safe, so, never leave the baby unattended with these ornaments, and take them away when done shooting.
2. Frolic in white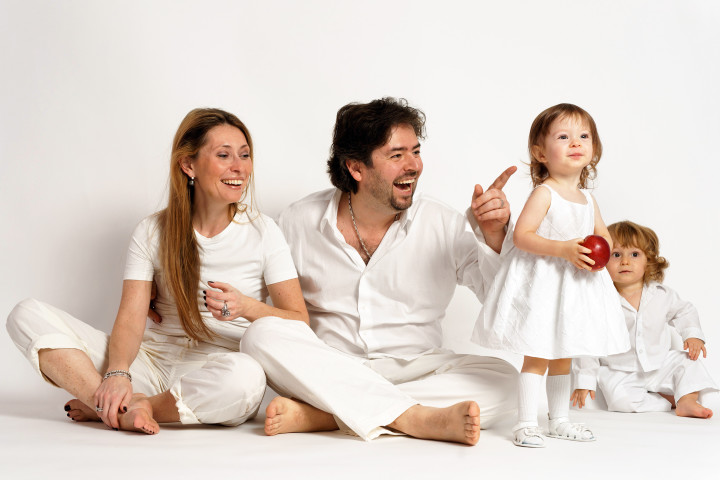 Want all eyes to be on you? Eliminate all competing distractions. One fun way to do it is dress in white and pose on a white background. Hey, snow works great – just keep warm! White clothing will conspire to merge with your background, but there are three ways you can keep them apart:
Shadows. Cast onto the plain background, shadows also lend a 3D feel to the image. That's the approach I used for the shot above. Or you can try the shadowless look by blowing the background out to 100% pure white.
Texture. Make sure the clothing and the background have different patterns to them.
Color. You can make your background a subtly different shade of white from the main subject, and the eye will readily distinguish them. It's not an urban legend that Eskimos have over 50 names for white. A very precise way to do it is by lighting the background with a different color temperature from the main subject.
3. Play with Christmas lights
Who says Christmas lights only go on a Christmas tree? A big blanket of lights can be used as both a prop and a light for some creative effects. I haven't shot photos of my own illustrating this point; however, my colleagues Jennifer Hardt, Julie C Jacob (susiejulie), and Murilo Cardoso were very kind to allow me to feature their work here as great examples of this.
This slideshow requires JavaScript.
Just make sure the lights and the wiring are not damaged, are safe to handle, and pets or small kids do not get tangled in them.
Happy Holidays!